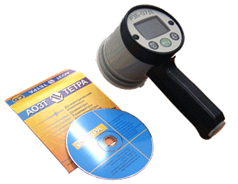 Radiometer RZB-07D "Tetra – B" is designed to control the contamination of workroom surfaces with beta – active radionuclides, equipment and other objects by measurement of the flux density of beta – particles.
Radiometer is used at nuclear fuel cycle facilities in the units responsible for controlling radiation situation.
Measurement range of flux density of beta particles for 90Sr+ 90Y
5 – 5·104 part/ min ∙cm2
Sensitivity of the radiometer
No less than 0,25 с-1/min-1∙сm-2
Limit of the basic relative error of the radiometer at p = 0,95
± (15 + 10/Ах) % *
Instability of the radiometer readings during 8 h of continuousoperation
Not more than 5 %
Level of the own radiometer background
No more 3 part/ min ∙cm2.
Operation mode setup time
No more than 2 min.
Working area of the detector
30 cm2
Radiometer is resistant to the values of MED of gamma-radiation
10 mZv/h
Radiometer is powered by two batteries
size АА (R06)
Time of operation from two just charged batteries
No less than 12 h
Environment temperature
from -20°С to +50°С
Relative humidity
Up to 75 % at +30°С
Atmospheric pressure
from 84 to 106,7 kPa
Variable magnetic field of industrial frequency of the voltage
Up to 400 А/m
Level of casing protection
No worse than IP54
Resisting to:
• Temperature and humidity radiometer refers to Group B2a;
• mechanical impact – group N2;
• atmospheric pressure – group P1 in accordance with GOST 27451
• Type of climatic performance – GOST 15150 U1
It is functional after 5 min impact of alpha radiation with flow density of
Up to 5∙107 part/ min ∙cm2
Additional error at max. influencing factor
No more than 25 %
Mean time between failures
No less than 8000 h
Average lifetime
No less than 10 years
Overall dimensins
Ø90×120×210 mm
Weight of the radiometer
No more than 1,5 kg
* – Ах –numeric measured value
Features:
There are two channels: the main channel and the compensative one in the device. Type of the detectors – Geiger and Muller counters;
The displaycontains informationaboutduration ofmeasurement cycle,degreebatteries dischargeandmagnitudeof the statisticaluncertainty of the measurement result.