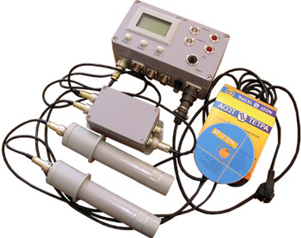 A stationary device designed to control the filling level of open and closed tanks, hoppers, columns other technological devices by liquids, suspensions, bulk materials and other media.
It is an optimal device according to its characteristics to control the level of liquid with "fuzzy" boundary between phases, liquids with hills, depressions and foam at the upper boundary of the liquid, "boiling", agressive and flammable liquids.
Area of application
Mining, coal, cement, chemical, metallurgical industry, as well as the nuclear fuel cycle enterprises.
Number of controlled levels for SUR-T1
1
Number of controlled levels for SUR-T2
2
Absolute value of the variation from the set level during the control level ofphase interface water – air
No more than 0,1 м
Operation mode setup time
No more than 30minute
Duration of continuous work
No more than 24hours
The device is powered by AC of 50 ± 1 Hz, with voltage of
from 187 to 242 В
Alternating Voltage at "dry contact " circuit with current of up to 6A
to 380 В
Operating temperature range:
– for detection unit BDPG
– for indicating device USR
from – 30°С to + 50°С

from + 5°С to + 50°С

Relative humidity
to 100 % under + 35°С
Level of casing protection
No worse IP54
Distance between the detection unit and the measuring remote control
to 1200 м
Mean time between failures
No less than 10000hours
Average lifetime
No less than 10 years
Output signals of the signaling device:
– sign-numeric display;
– Two outputs of "dry contact" (output of optosemistora);
– RS-485/RS-422 and RS-232cconnecting interfaces
Designation
Overall dimensions
Weight
Detection unit BDPG
Ø50×240 мм
1,0 kg
Bs Matching unit
176×80×64 мм
0,5 kg
Collimator
160×160×120 мм
20,0 kg
Measuring remote control
220×140×110 мм
3,0 kg
Normal 0 21 false false false UK X-NONE X-NONE MicrosoftInternetExplorer4
Features:
•presence inthe signaling deviceof the twodetection unitsandoutputcommutatorsof "drycontact"type thatprovides:
– Ability to controlthe filling levelof the twocontainers in the same time;
– possibility ofregulationthe degree offilling(includingat a highrate of filling)during the installationof twodetection unitsat different heightsona singlecontainer;
•internalself-testwith a messageabout theproblem;
setting the value"hysteresis"from the remote co