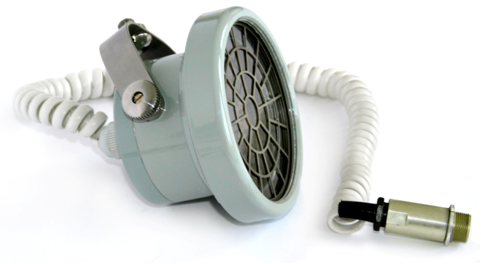 Detection unit BDZB-100L is intended for measuring the level of pollution of surfaces polluted by beta- active substances.
Output signal is a sequence of normalized, statistically distributed pulses, contains measurable data about density value of the flow of beta radiation where the block is located.
Area of the detector sensitive surface, cm2

30,0

Sensitivity*

(0,3±0,05) imp∙s-1 for 1 min-1∙sm-2

Energy range of the registered beta-emission, MeV

from 0,12 to 3,0

Registration efficiency (2π)*, %

45,0

Own background, с-1

2,0

Type of the detector

Geiger-Muller Counter, SI-8B

Upper limit of the measured density of beta-emission flow*, min-1·sm-2

1,0·104

Sensitivity to background gamma-emission,

No more than 5,0 imp∙s-1 for 1 mk3v/h

Overall dimensions, mm

Ø 88 х 80

Mass, kg

0,4

Connecting cable length, m

1,5

Note* – emission of 90Sr+90Y radionuclides
ELECTRICAL CHARACTERISTICS
Power supply – DC voltage from 7.0 to 12,6 Vv. The consumed current is not more than 30 mA.
Designation of the joint contacts (plug RS -10) of the block.
Contact

Signal designation

Commentaries

1
+ Uп
7,0 – 12,6 В
4
Output
rectangular pulses with duration of (1,5±0,5) mks

00 – Negative; amplitude – 5 В

01 – Positive; amplitude – 5 В

02 – Negative; amplitude – U пит

03 – positive; amplitude – U пит.

9
┴
Screen is connected to contact 10
10
┴
General is connected to contact 9