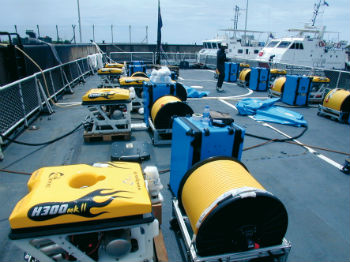 H300 and H800 are remotely operated vehicles intended for inspection, observation and light works.
Power and thrust of H300 are sufficient to withstand sea currents up to at least 3k.
H300 and H800 are equipped with a high performance viewing system, both with a color/zoom TV camera (mounted on a full Pan/Tilt unit) and a B/W very low light TV camera.
These ROVs have a high level of modularity, with a wide range of optional sensors and tools, mounted on the ROV itself or on interchangeable skids:
All types of sonar (side scan sonar, imaging sonar…)
Altimeter (with auto altitude function)
Positioning system
High resolution digital still camera
Manipulator arm
Metal detector
A single and ergonomic hand controller allow to both control the ROV and a 5 functions manipulator arm.
The control unit incorporates the power supply unit, and offers a PC screen with either video only, or the combination of video, sonar display and digital still control.
Some differentiating characteristics (refer to datasheet for more specifications):
The depth capacity: 300m for H300 and 800m for H800
The forward speed: 3.5k for H300 and 4.5k for H800
The weight: 70kg for H300 and 99kg for H800
Due to compact size and responsible weight, H300 and H800 are easy to handle and install on board of ships.